Are you having a hard time picking the next beach destination? Worry no more… This article will make you realize that the best beaches in Mexico you must visit are worth it.
Mexico has some of the most marvelous beaches in the world! Mexico is a nation of fantastic food, culture, and stunning ruins. It also includes an extensive shoreline and is home to some of the most amazing beaches in the world. Nearly 500 beaches are covering the Pacific Ocean, Gulf of Mexico, Gulf of California, and the Caribbean Sea.
The terrific aspect of the Mexican coastline is that it offers various kinds of beaches hidden treasures. Anticipate discovering remote spots surrounded by jungles and ancient ruins. You may also stumble on sandy shores with calm waters ideal for swimming and daydreaming.
Check out these top five best beaches in Mexico you must try.
Tulum
Famous for its Mayan ruins from the 13th century, Tulum beach is the best destination for all history enthusiasts. Tulum is located at the southern end of Riviera Maya. And in just a two-hour drive from Cancun, you can be there in no time from the airport.
This stunning beach features crystal clear waters, palm trees, and beautiful white sand. There are several limestone pools nearby which are ideal for swimming. Additionally, some fantastic beach hotels where you can enjoy all the comforts of a 5-star stay.
If you are wanting to avoid all the hustle and bustle of overcrowded beaches, Tulum can definitely be the place. A must try on your list of best beaches in Mexico you must visit while on vacation.
Akumal Beach
Akumal Beach is one of the most well-known beaches in the Riviera Maya and brings in both travelers and locals.
The name 'Akumal' translates to "Location of Turtles" and for good reason. This is a preferred location for big sea turtles to come and lay their eggs. If you are into snorkeling and scuba diving, Akumal Beach is home to fantastic coral beds with numerous fish life.
There are 5 various bays to explore and several bars, hotels, and dining establishments can be discovered in this area. Tourists with children will enjoy hearing that Akumal Beach is ideal for swimming. Additionally, you can easily discover a secluded spot, even on the busy weekends.
Cancun Beach
Among the most known best beaches in Mexico you must try, Cancun Beach. It is 14 miles long and includes pristine white sand and crystal-clear waters. Initially, this beach belonged to the ancient Mayan civilization. And there are numerous ancient tourist attractions in the area to explore.
You will discover a fantastic reef which is best for diving and snorkeling. Tourists can likewise go paddle boarding, fishing, and kayaking.
Several dining establishments with both indoor and outdoor areas can be found. Amazingly, you can try a range of Mexican specialties to savor all day. Cancun Beach can be compared to the Las Vegas strip. Why? Because it has all the entertainment alternatives, resorts, high-end hotels, dining, and gambling. So if you like Vegas, you'll like Cancun for sure. This is just one of the best beaches in Mexico you must visit.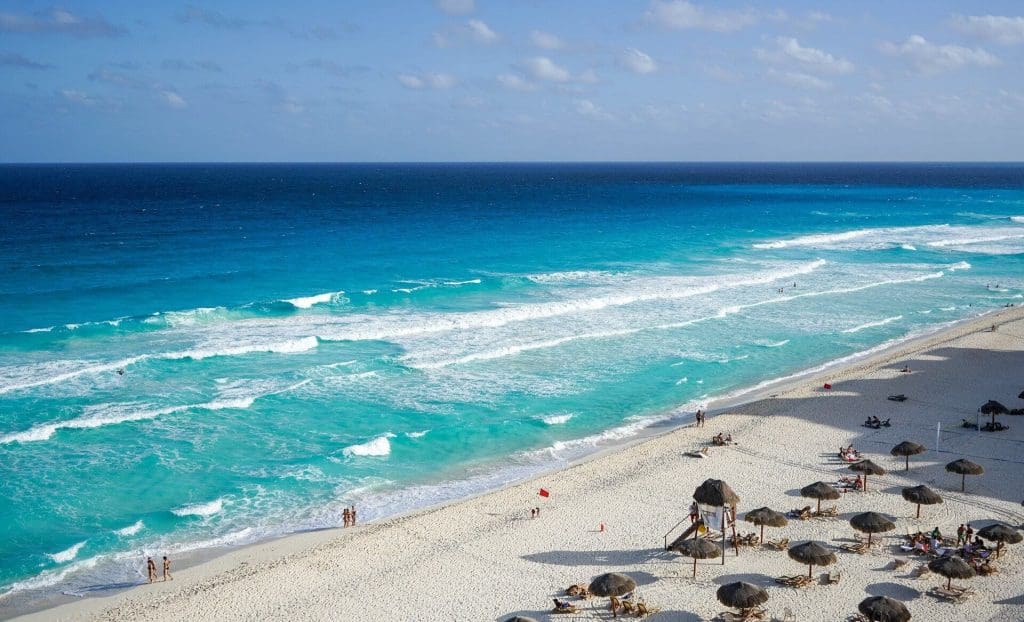 Playa del Amor
Playa del Amor is among the most famous and best beaches in Mexico. You can access it by a water boat from the marina at Cabo San Lucas. And voila! Behold to witness the amazing Playa del Amor. It is also referred to as the 'Fan's Beach' since its romantic setting includes the gorgeous Land's End rock formation.
Bear in mind that the tides are quite rough on the Pacific end. And it is recommended to get in the water in the Bahia de Cabo San Lucas area. The Cortez side of Playa del Amor is also perfect for snorkeling and draws in tons of locals. It takes a bit of effort to get here, but the entire experience of visiting Playa del Amore is worth it.
Ziggy Beach
Ziggy Beach is located in Riviera Maya and is among the best beaches in Mexico to visit. Featuring a fantastic variety of marine life, Ziggy Beach is a great location for snorkeling and diving. This can be attributed to the beaches' incredible reef system.
There are 2 different areas of the beach. One is designated just for the guests of the Ziggy Beach Club; the other is open to all other visitors.
Ziggy beach is also well-known for a selection of watersports action consisting of paddle boarding, sailing, jet-skiing, and far more. Lots of rental shops can be found on the beach. And of course, lots of nice places to sit for a drink or snack. Clear enough how Ziggy Beach is one of the best beaches in Mexico you must visit?
Now is your time!
With all these sites to choose from, you can now prepare your flight to Mexico. Brace yourselves to discover the best beaches in Mexico you must visit. Do not miss the chance to experience these superb and pristine beaches with all the history and culture. Just make sure you have plenty of camera storage!
For more information about planning perfect vacations and great travel opportunities, contact TradeShowTravelCo.